World Cup motoserfu: qualifying heats in Prague
Women's qualification for Sascherova
Mexican jetsurf Ale Rivas was the first on the track, leading the first two laps. Her result at the finish showed 50.42 seconds. The leader's flag was behind her until the Czech Aneta Sasherova caught up with her. The team result was 49, 75 on the circle, which determined the second place Sascherova. Three leaders completed compatriot Aneta Teresa Tesarikova.
Kornfail dominated the men's category
The winner of the race Slovak Lukash Zagorsky drove the fastest lap in 55.38 seconds and was in the lead in the men's qualifying event. And the championship leader Jakub Kornfail pleased the audience. His result is 53.63, the second after Zagorsky, nobody exceeded and the well-known number 84 (Yakub Kornfail) completed the qualifying session, setting the pace.
The fight for 3rd place was tough. He was taken by Ivo Strouhal (56.93), who was pushed aside in 2015 by Mikhail Lostak. Thoroughly able to change the intermediate performance of the Jetlafer Sula Martin (56.67). This was enough to overtake Lostuck and climb to the third step. However, Martin Sula could not stay in the leading three for a long time. The Prague Club's jet-surfing club Jan Charouz broke the goal from 56.58 and completed the top three positions.
Men races:
Jakub Cornfale, Sula Martin and Ian Charouz dominated the team race, winning all rounds. Group D became very interesting, because the fight between the winner of the Slovak Lukas and Prague rider Jan Vanchura, who showed a rather good result, being the 4th after a series of hot races. As a result, the Saturday program Vanchora finished 11th, thanks to two 5th places in the races.
Holders of equal points Kornfale, Sula and Charoz, in tomorrow's competition will determine their qualifications.
The leaders are: Yakub Kornfeil, who followed the wave crest during all the races, second qualification winner Lukasz Zagorsky and third qualifier Jan Charouz. Sula Martin remains fourth, despite several victories. Sebastian Kubles – in 5th position in front of Mikhail Lostak. Pavel Muzil entered the finals at the 7th position, winning second place for the group and determining the last rider, who went straight to the final – Ivo Strouhal.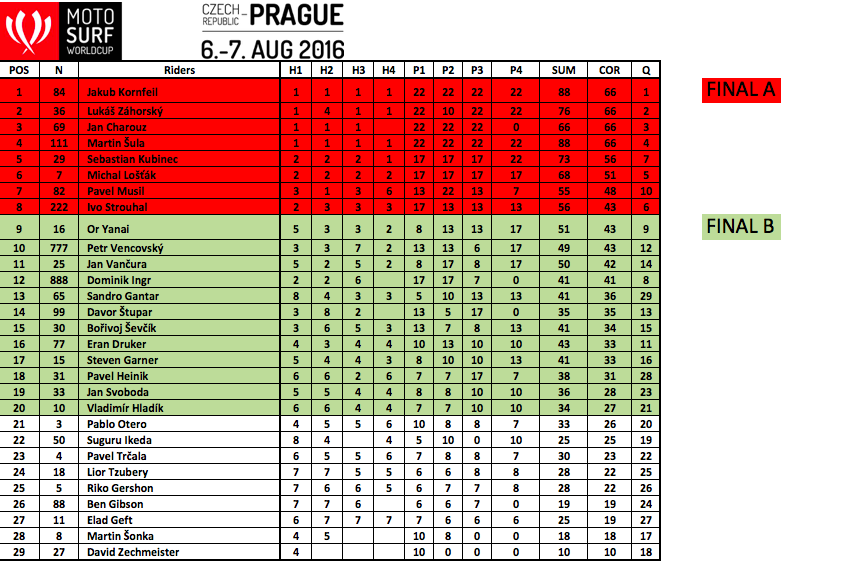 Jetsurfers on the Vltava River, Prague
Jet Rider, along with Aneta Sacherova, once again showed their superiority and won first places in their competitions. The second place was taken by Renata Klemanova from Slovakia. The winner of the Mexican tour, Ale Rivas, finished swimming in third place after Kristina Sevchikova and Martina Luxchader. The Wild Card Rider and ten-time world champion, Gisela Pulido, finished 10th.