A Brief History of The Motorised Surfboard
1935
The First Documented Jet Boards appear circa 1935. A motorized surfboard, which was apparently also known as a surf scooter, was featured in an Australian newspaper in 1935:
"Life Guard Speeds to Drowning Swimmer on Motorized Surfboard SURFBOARD riders won't have to depend on outboard motors or speed boats to pull them over the water in the future. Below is shown a motorized surfboard scooter recently invented in Australia. The small motor in the rear furnishes the power and also sets the board at the proper angle in the water. A good machine for life guards." The photo accompanying the article appears to have had some 1930's artistic photoshop work done to it, but the other photos from Bondi beach are not touched up. In summary, this jet board was both uncomfortable and impractical and unlikely to have made it past various prototypes. But hats off to the pioneering visionaries who created the first motorised surfboard!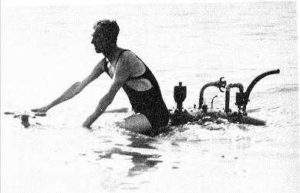 1938
Emil Hansen from Bryn Mawr developed a self-propelled surfboard that also became known as
Skimboating – an apt name because it was more like a small boat. It was driven by a seven horse power outboard engine at the front and housed in a watertight aluminium hull. It was 90 inches long, 24 inches wide and weighed 120 pounds making it a heft bit of equipment, although it came apart in 3 sections to make it easier to transport. Top speed was about 30 mph and it could be steered with a rudder and by shifting your body. It had a novel feature – a safety switch that worked in conjunction with the tiller ropes. As soon as the steering rope was dropped, a magnetic switch automatically stopped the motor. The photos show the Self-Propelled Surfboard featured in a later magazine in 1950 but we found an article featuring this invention in the Daily Telegraph, Sydney in 1938. The photos show people sitting even though the intention was for people to stand on the board, We suspect that took some practice and the magazine models were probably more comfortable sitting down! Self-Propelled Surfboards were not welcome at public beaches because
They were as big as a small boat
Heavy and cumbersome design, necessitating it be split into 3 sections to transport it
On the dangerous side and unpopular with non-surfing beach goers
1948
Circa 1948, Hollywood inventor Joe Gilpin invented his motorised surfboard and although it was 13 years after the original Australian design this board definitely looked more promising and would have been expected to take off but other than a photo of Joe crossing a river or lake on his motorised surfboard while wearing a suit and hat the motorised surfboard seems to be referred to as a failed invention. We believe Joe actually had something here but a Hollywood star in a suit crossing a river was no way to market the board. This board in the right hands of the right person on the right day with the right wave could really have taken off. Had Joe been a Californian surfer we may have seen the beginning of the jet motorised surfboard era in 1948.
1960
Circa 1960…now we are getting somewhere.
The legendary surfboard pioneer Hobart "Hobie" Alter had the great idea of fitting an outboard motor to one of his surfboards. Quite possibly not the safest of the motorised surfboards but most definitely the fastest and most practical of inventions. You can clearly see by the photo below and the wake of water behind Hobie that he was able to reach some high speeds and the motorised surfboard did turn. Whether it turned easily or on command is unknown but it sure did look like fun for the brave surfer who didn't mind losing a limb for a good thrill and adrenaline rush!
1965
The Real Motorised Surfboard conceived by Alfred Bloomingdale circa 1965
Alfred Bloomingdale, heir to the Bloomingdale Department Store fortune, liked to surf but didn't like to paddle! He is credited with conceiving the first real motorised surfboard, but with no shortage of money, we believe he financed the creation of the jet board rather than being the actual inventor. With Alfred's financial backing the jet boards went into production – although only 200 were made. They were manufactured and engineered by the best and no expense was spared. The hulls of the boards were made by an aeronautical company and cost $1700 back in 1965. Thus your average surfer couldn't afford one and they were only

available to an exclusively wealthy breed of thrill seeker.
The speed was controlled by the dial which had a magnetic lead – if the surfer took spill, the lead would detach and kill the engine. The magnetic lead and kill switch concept is still used today on the latest jet boards, as are many of the other concepts that originated back in 1965. • The first jet board that moved past prototype or one-off invention • This board formed the basis for future jet board development • Many design concepts are still in use on today's jet boards • Some of these jet boards can still be found in museums and private collections
Car-customiser George Barris also built his Powered Motorised Surfboard circa 1965 George Barris was the guy who designed and built the original Batmobile and KITT amongst other things. He built his powered motorised surfboard to go along with the amusingly named Surf Woody customised car. George's motorised surfboard looked great but really wasn't practical. We believe George wanted to show off his design and build skills, but his motorised surfboard was little more than a prop to market, advertise and bring more attention to the Surf Woody. • A great looking but impractical motorised surfboard created by George Barris • Created primarily to bring more attention to his Surf Woody customised car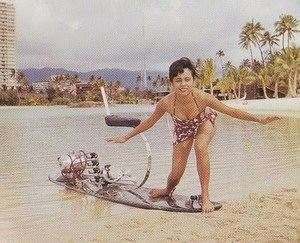 1982
Circa 1982. Motorized surf board that cost $2,000  to manufacture, 10'6′ tall, weighed fifty-pound and was propelled by two expensive nicad batteries.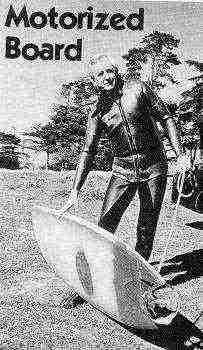 63 year old Neil Townsend, the creator of Aqua Jet honeycomb surfboards, developed the board for his personal use, because of a permanent heart condition which would have otherwise entirely ended his surfing career. Neil rode the board in surf up to ten feet in California and Hawaii. Powered by a propeller, the board was activateded when the rider laid on the control pad, and stoped when he stood up. The board moved forward as fast as a strong paddler could paddle an equivalent-sized board. At the time the impact of this design was of little consequence to surfing, but as Neil pointed out; the power cells being developed were lighter, more powerful and cheaper than the ones he was using. Neil pointed out that in ten years his extensive research may payoff for somebody. Circa 1992 many more prototypes were poping up on beaches and laying around in workshops and we are sure that Neils original ideas were the basis for a lot of these jet boards. In an interview with Surfer magazine in 1982  Neil said "And who's to say -one day we may see powered boards at Sunset or Waimea Bay flying through impossible sections on those big, unsurfable offshore days." How right Neil was and that day is finally here.