Interview with Torque Electric Surfboard CEO Dean Jareth.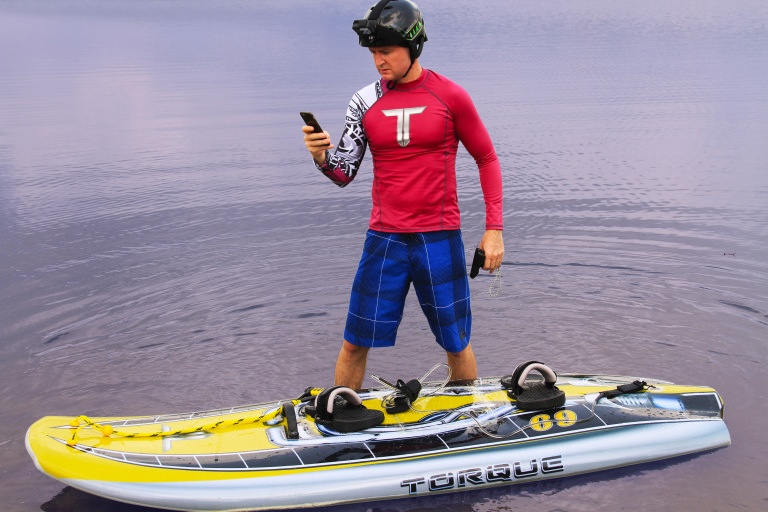 The Australian company Torque electric has been developing and producing Mongrel and Xtrem jetboards since 2015. We are pleased to learn more about the Torque boards from the company's founder and director, Dina Jareth.
E-SURFER:
Did you play sports when you were a teenager? Do you have pictures of that time?
Dean Jareth:
Yes, from a young age I enjoyed the ocean, the coast of Australia is one of the most beautiful places in the world. Surfing is a great way to enjoy this beauty.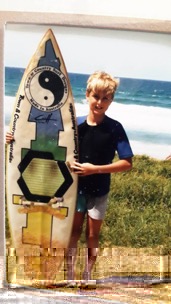 In this photo I keep my first surf Town and Country. Before me, it was owned by professional surfer Danny Wills. In the next photo with me, a friend and father, we are on the beach Byron Bay Wategoes looking out for the waves and choose a place to ski.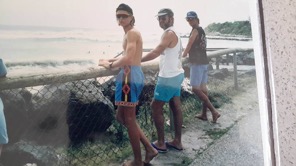 E-SURFER:
How did you get the idea to create a motoboard? Did you immediately decide to make the board with an electric motor?
Dean Jareth:
First I saw the electrosuff on YouTube, I immediately liked this idea. Then I thought it would be a world hit. I decided that in Asia and Europe, where there are no such waves as in Australia, such a board will be in great demand. I began to study the possibilities of electric motors with a screw. At first, I did not consider boards with ICE; it seemed to me that electric surfs were easier to launch into production. But during my research, I realized that the ICE boards also have great potential. Therefore, I started simultaneously the production of electric and ICE boards. Over time, I realized that electro surfs only seem to be a simple solution, in fact it is not so easy to create a really good product.
E-SURFER:
Do you have a photo of your first prototype?
Dean Jareth:
The first electro-surf prototype was a smaller copy of our Mongrel board. It looked cool, it was light, but we decided to change the size of the board.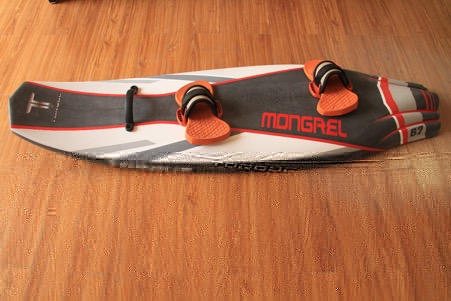 E-SURFER:
You had an intention to build a business or you did it for fun.
Dean Jareth:
This was originally a business project, which nevertheless will bring me pleasure. I knew how to shape the surf and how to assemble it. And I knew how to use this experience when creating new motodosok.
E-SURFER:
When did you decide to make a business a business?
Dean Jared:
It was in 2015, when I began to research the motodose market and raised the company Jet Boards.
E-SURFER:
What did you have to face? The coolest challenges.
Dean Jared:
In electrical surfing, the most difficult parts are the motor, the battery pack and the controller. Correct decisions require a lot of work and research. For example, the choice of materials from which all these elements are created. These are crucial decisions that require a lot of effort, I have to be sure that these are the best materials. Otherwise, the errors will deliver to the buyers quite a few problems, for example overheating. Therefore, I do not show some solutions in the specification – this is a commercial secret. For the end user, these parameters have no special meaning. A rider does not need to know the power of the motor, since they are all different. The user is interested in maximum speed, battery life and how easy it is to replace the battery.
And if the battery can be replaced, then how much it will cost. The weight and size of the board you need to know to transport it. These characteristics are really important when choosing an electrosurf. С ДВС досками не было столько сложностей хотя некоторые решения оказались довольно затратными, кое-что мы сейчас переделываем. Даже с моим опытом в изготовлении досок для серфинга, первые прототипы получились недостаточно хороши по моим меркам. Одной из проблем было то, что двигатель сильно вибрировал. Поэтому мы внесли изменения в следующей модели. The first model is the answer to other manufacturers, I made the board more powerful and with better acceleration. But the problems of vibration in the engine will sooner or later affect other nodes. Our new engine is now purring like a kitten. Application development and GPS tracking has also become a challenge. It took two teams quite a few investments to make the system work efficiently and accurately. But it was worth it. Riders can fully enjoy riding on our boards.
E-SURFER:
What do you consider your best achievement at the moment?
DeanJared:
I would say that this is the brand that I created. It is of interest. We offer moto boards that are demanded by the market and satisfy the needs of athletes. I consider it a success that we managed to set up production in two years. We will reach full capacity when we start the production of sap and inflatable motodisks for children with a small maximum speed. This will happen within a few months.
E-SURFER:
Do you often ride on your own boards?
Dean Jared:
I constantly ride, sometimes twice a day. This is a new sport and there is much to develop. In addition, skating helps to find solutions to improve our boards. I hope to be allowed to participate in the JT World Leader Board Events. I would like to win a new motodoske(смеется).
E-SURFER:
What plans do you have for the future?
Dean Jared:
By the end of 2017, we will be able to offer a complete product line for any rider, whether child or grandmother. Afterwards, we will focus on promoting Torque products on the market and looking for new partners. I will also be engaged in the development of the JT World Leader Board. This will require cooperation with partners who can support the competition. I do not think that finding partners will be difficult, considering that they will have a good profit from this. Honestly, I think that there is no better sport than competing on racing jet skis with the best riders from all over the world for great prizes. In 2018 we will release two new boards, after which we will start working on a four-stroke engine. This will be a new challenge for our team. E-SURFER:
I would like to tell my fans something else.
Dean Jareth:
For fans of motodosk we will open the centers Torque and in your regions, and if this has not happened yet, write me a mail
info@torquejetboards.com
If you are interested in joining our team, take a look at our website.
www.torquejetboards.com
in the section for investors, there you will find answers to everything that interests you questions We offer many opportunities for sales agents, do not postpone the interest on our boards is growing rapidly. Keep on skating! Translation (EN-RU) of an article from the site:
e-surfer